Dear God
thank-you for providing the most bizarre way's for
Nicole
+ I to hang out. We really like that you love our friendship as much as we do ; ) --Nicole and Tyler conveniently had a 4 hour lay over in Atlanta on their way to Memphis from their honeymoon so of course Adam and I drove out to have dinner with them! It was such a sweet time of talking about all things wedding and marriage (duh) and just made me SO thankful for their friendship.
Dear student teaching
I wish you would hurry up and be over. I love my kiddos but I do not like writing 5 page lesson plans that will never be used in the real world.
Dear Spring weather
you rock. 75 and sunny this weekend? Heck.yes.
Dear graduation
you can hurry up.. thanks!
Dear (future) hubby
you are so patient and kind and I wish I was as cool as you. I still can't believe you are MINE. I'm very lucky!
Dear readers
y'all have been so so great lately and I just want to thank y'all!! I have received so many encouraging e-mails lately from girls who just want to chat about life and love and relationships and it just makes me so happy!!! [P.S. Have y'all "liked" Southern Simplicity on Facebook?! You totally should.]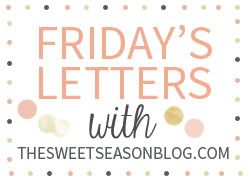 Happy Friday Lovelies!! xO